1. Khumbh Mela:
Kumbh Mela is a very big fair and the largest gathering of Hindu pilgrims, celebrated every twelve years at four holy places Prayag (Allahabad), Haridwar, Ujjain and Nashik. The grand event held by rotation, on the banks of the sacred river Godavari, Kshipra, Yamuna and The Gange. During this big fair Hindus pilgrims gather at the sacred Ganges river for holy bath. The major attractions of this biggest religious fair are the procession of Naga Sadhu "Holy Men of India" and procession of Akharas marching.
2. Sonepur Mela:
The Sonepur Cattle Fair held (November) on full moon day in Bihar, on the confluence of river Ganges and Gandak. Sonepur fair is also known as the Harihar Chhetra Mela,The Sonepur Fair is the only one of its kind in the world. Haathi Bazaar is one of the major attraction of the fairs,where elephants are lined up for sale, Apart from this all breeds of buffaloes, donkeys, ponies and birds are also available for sale. The largest animal fair in Indian attracts peoples from all around the Asia.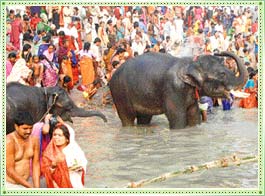 3. Pushkar Fair
: Pushkar Fair is one of the world's largest camel fairs, held (October-November) in the oldest city of Rajasthan "Pushkar". The Pushkar camel fair attracts large number of visitors from all around the world, especially from Israel. The biggest fair of Rajasthan held on the banks of the Pushkar Lake, It is also an important tourist attraction. The competitions such as the matka phod and longest mustache and the Hot air balloon are the few very special experience to enjoy.
4. Hemis Gompa Fair:
The Hemis Gompa festival is a religious fair and one of the most auspicious Occasions for the of Buddhist community in India. The grand fair held in the month of January/February at the world's famous Hemis Gompa "the biggest Buddhist monastery" located in Ladakh. The famous Hemis Gompa is surrounded by mountain rocks and concealed inside the Hemis National Park.
5. Kolayat Fair:
Kolayat Fair also known as Kapil Muni Fair is the another largest cattle fair held (September-October) in Bikaner district of the Royal state Rajasthan. The major attraction of the fair is when thousands of devotees take a sacred dip and put several lit oil lamps to float in the calm waters of the Kolayat lake. The Royal state of India also host Desert Festival of Jaisalmer,Nagaur fair and the most famous camel Festival in Bikaner.